---
In Telangana, virus is spreading from those who attended the Nizamuddin Markaz
Author: Desk April 2, 2020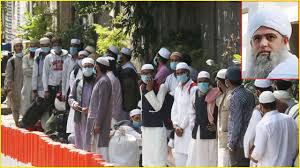 On Wednesday, 30 Positive cases and three deaths The spread of Corona virus in the State had been discussed at length.
The officials pointed out that in Telangana, the virus is spreading from those who attended the Nizamuddin Markaz and through them their family members according to the medical reports. On Wednesday, 30 patients were tested positive. Two in Gandhi Hospital, one in Yashoda Hospital died on Wednesday. With this, the death toll due to Corona virus reached 9 in the State. The three died on Wednesday and 30 who tested positive are those who went to Markaz. The six who died earlier were also who went to Markaz. Initially, the virus spread among those who came from abroad and through them it spread to others. They are
all recovering. Many of them discharged. No case among them was serious. Nobody died. But the positive cases for the past few days are all those who went to Markaz. Hence the Telangana government has decided to conduct tests on those who went to Markaz. There is a need to conduct tests on 300 more who went to the Markaz. The government
is urging those who went to Markaz, their family members and those who came in contact with them to undergo tests. Since the virus is spreading through those who went to Markaz, they all should under go tests without failure. CM KCR has urged the people to make the lock
down aimed at preventing the Virus a success. If people extended support for a few more days, Corona spread in the Telangana State can be curbed. The CM said the government is giving top priority to the medical staff protection who are providing treatment to the Corona.
The CM met Governor Dr Tamilisai Soundararajan and explained to her about the spread of Corona Virus and the measures taken by the government and the present lockdown. Since the CM had a vide conference with the PM and Governor with the President on Thursday,
the CM discussed the matter with the Governor.