---
Government issues SOP for partial reopening of schools & institutions
Author: Desk September 9, 2020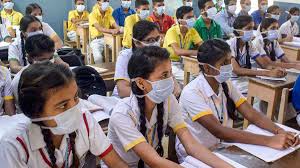 Health Ministry issues SOP for partial opening of schools of class 9th to 12th standard, students are allowed to attend school to clear doubts on a voluntary basis from 21 September. SOPs also issued for entrepreneurship training institutions and higher institutions
In the backdrop of the ongoing 'Unlock 4', partial resumption of activities in schools for students of classes 9-12 will be allowed from 21 September. The Health Ministry issued guidelines to ensure smooth school operations.
Students of classes 9th to 12th will be allowed to attend school on a voluntary basis for taking guidance from their teachers after taking written consent of their parents/guardians.
Apart from mandatory masks, Schools has to ensure regular sanitisation including frequently touched surfaces, respiratory etiquettes, hand washing in schools. Teachers and students have to maintain a physical distancing of 6 feet, wherever feasible. While, Seating arrangement has to ensure a distance of 6 feet between chairs, desks too.