---
GMR Hyderabad International Airport distributes Dry Ration Kits to those in Need
Author: Desk May 2, 2020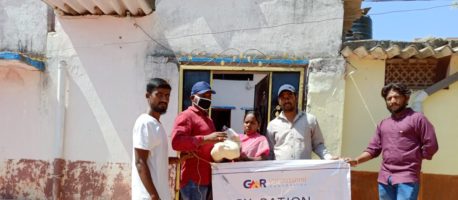 The Covid-19 pandemic and the resulting total lockdown have brought India virtually to a standstill position. In this crucial times, many poor people are stranded in their homes and are facing many challenges.
In these testing times, GMR Hyderabad International Airport Limited (GHIAL) stepped in to help those in need in villages surrounding Hyderabad International Airport. With the help of its Corporate Social Responsibility wing, GMR Varalakshmi Foundation (GMRVF), GHIAL has distributed around 1200 dry ration kits among these villages during the period Apr 20th – 27th. These kits contained rice, dal, cooking oil, tamarind, table salt, soaps and other essentials.
The areas of distribution were:
500 kits in Airport colony (Shamshabad Municipality)
300 kits in Gollapally (Shamshabad Municipality)
200 kits in Mamidipally (Badangpet Corporation)
120 kits in Ranganayakula Thanda (Badangpet Corporation)
75 kits in Charinagar (Shamshabad Municipality)
Apart from this, dry ration including 200 Kg Rice, dal, cooking oil, soaps and other essentials were supplied to the residents of 'Aram Ghar'- A home for the handicapped and specially privileged, Shamshabad.