---
NHRC calls for legal action over Vizag gas leak tragedy
Author: Desk May 11, 2020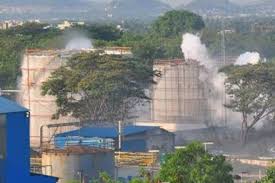 The National Human Rights organization (NHRO) calls for criminal prosecution of management of LG Polymers as well as officials of regulatory bodies for the criminal negligence that led to leak of toxic gas on May 7. The case registered against the LG Polymers must be pursued diligently and to the fullest extent rather than diluted as has always been the practice in the past.
NHRO takes strong exception to the Chief Minister describing the LG Polymers as a 'good company' and a reputed multinational that adheres to norms! This is a company that is responsible for the death of 11 people, causing serious ill-health to hundreds of citizens, led to evacuation of thousands and unleashed horror on the city in the midst of a distressing lockdown. There is no basis for the 'good' reputation of this company. In April 2019, the South Korean government revealed that the company had fudged air pollution data to convey that it was compliant with air emission norms while in reality it had emitted the carcinogenic vinyl
chloride chemical more than 15 times in excess of standards.
We do not even know, as yet, what the long-term health impacts on those in the RR enkatapuram area who have inhaled the poison, is going to be. This is a company that was functioning, over many years, in open violation of basic environmental norms, a fact that it had even admitted in an affidavit in May last year to the State-level Environmental Impact Assessment Authority (SEIAA).